The Sungenius Solar Rusk Drying Oven™
Now available as a Hybrid Solar/Electrical Drying Appliance
* Dry from the sun only(cheapest)
* Dry solar/electrically in cloudy conditions (quicker)
* or dry electrically at only a tenth of a normal oven cost (convenient)
You do not have to dry your rusks in an open oven at 90ºC anymore
The solar drying oven will save you a fortune on your rusk drying bills
Take your rusks outside, free up your kitchen and let the sun dry it for free
Dry anything else, fruit, vegetables, herbs, leathers, nuts, even biltong and more
New innovation changing the traditional way
Find out what we have learnt about drying rusks from the sun, as it might save you a fortune too
Nobody can compete with our rusk prices, as we have an almost non existent electricity bill
The mini solar dryer will dry your rusks, fruit, veggies and herbs at almost no cost
Works perfectly for drying biltong, just keep the dryer out of the sun. A biltong hanging grid is a standard fit. 
It can take up to 6 rusk drying racks
There is no solar panel as the oven dries your food directly from solar thermal energy: Max 600w output
The air circulation is generated by a high volume 220v extractor fan
Drying box dimensions: 600 x 500 x 500mm
Insect repellent grid covering all openings
The steel welded case is solid and the aluminium sheets are lightweight for easy handling
Wheels make solar tracking easy
Transparent collector top and back as well as the door are covered with unbreakable, UV protected poly carbonate sheet
The drying oven will increase the ambient temperature by 15 to 20°C
If the ambient temperature is 35°C the temperature in the oven will be 50 to 55°C
The temperature can be manipulated by manipulating the oven towards or away from the sun
Interesting fact about drying foodstuffs:

The volume and speed of the air replacement has a much bigger effect on drying foodstuffs than the temperature of the air

We dry our rusks during the night as well without adding any heat, as the low temperature makes no difference in the taste or texture of the end product.

You do not need a high temperature to dry rusks.
These ovens are all hand made, with less than 5% imported materials
We teach unique and rare skills to unemployed youth, who work in the manufacturing facility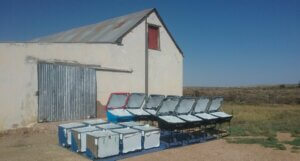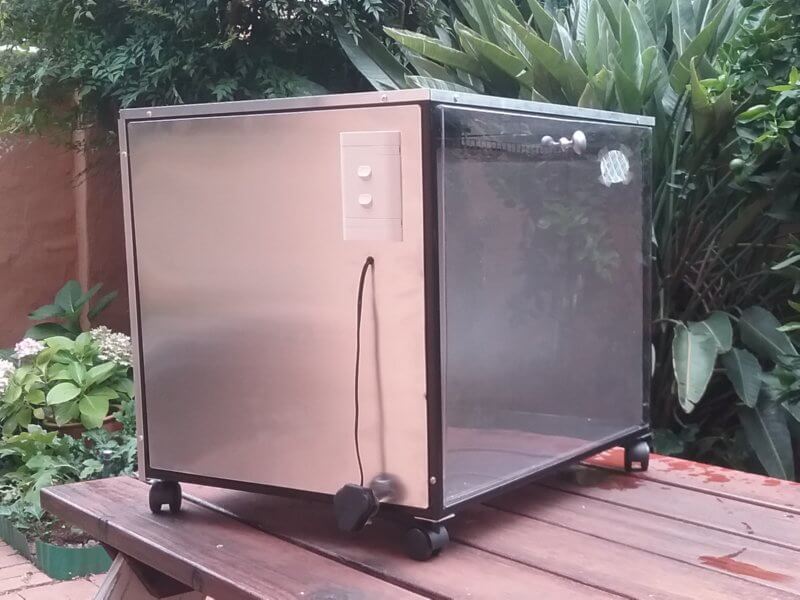 Choose any of the two mini solar drying ovens
Solar Only: R2300.00 PLUS high volume electrical fan, 4 rusk drying racks and a biltong rack
Solar/Electrical: R2800.00 with a 200w electrical element a high volume electrical fan plus 4 rusk drying racks and a biltong rack
IMPORTANT NOTICE
The Mini Solar Dryer is primarily a solar dryer and not an electrical appliance like your oven in the house. The drying process must not be compared to the drying process in your electrical or gas oven, although it can be highly impressive during the summer months. 
The Mini Solar Dryer dries from solar thermal energy and the drying time will change from season to season, day and night and even during the day. The electrical element has no thermostat and developed to simulate the solar thermal drying as well as to be used with solar PV systems. Energy saving remains the main goal and should be kept in mind at all times. 
The mini and mini+ are an exact, but smaller replica of our patent pending walk in commercial solar rusk dryer.
Its duel action drying capacity is highly impressive as we can dry up to 250kg rusks in a day in a 3 x 2 x 2 cube from only the sun.