Features you will love about the Patio Solar Oven
The first three features you will easily recognize: Quality, convenience and style

Because solar cooking and you deserve it, we are the first to put a solar oven on wheels

Electrical backup – you can even cook from a small inverter and a battery

All weather design. You can leave your oven outside in all weather conditions

Double, almost unbreakable transparent lid keeps the heat in

The curved reflective upper lid increases the temperature inside the oven with up to 20°C. It can also be manipulated to focus its reflection directly on specific pots 

Two convenient and practical rusk drying vents which let warm moist air out while sucking in dry air 

Solar entry size:  700mm x 535mm

Concave lid Reflection size: 700mm x 535mm 

Cooking platform size: 480mm x 350mm

Total weight: 21kg 

Max temperature in summer from the sun only:

175°C 

Max temperature in winter from the sun only:

155°C

All the parts in the solar oven can be replaced if needed

The stand can be taken off and dissembled if needed
Designed for 100% success and satisfaction
The ten most popular uses for the Patio Solar Oven
Drying rusks – The major costs in baking rusks is in the drying process. Your solar oven will dry it perfectly and at no extra cost by just opening the rusk drying vents to allow a natural circulation of dry hot air(see pictures above)
Solar cooked pap – Pap cooked in a solar oven can cook for hours and will never burn. We all know, the longer you cook pap the better it gets
Bread  and baking – You will love the bread baked in a solar oven. The new features stabilizes the temperatures and browning is now possible even in winter
Soups and Potjiekos – The technology in our oven can easily compete with conventional potjiekos and can even get better results as the heat is distributed more evenly and will never burn the food
Stews – Leg of lamb, eisbein, lamb rib or any stew that needs to cook for long periods of time
Jam – Now you can cook any jam without having to stir constantly or look after it as it will not cook over
Bottling – Beatroot, potatoes, eggs, onions, quince, sweat potatoes and almost all vegetables are cooked to perfection without any water
Defrost and hotbox – Defrosting anything and keeping food warm after cooking has become features a very handy and cost saving feature
Kids and solar – The Sungenius Patio Solar Oven gives parents and grand parents an opportunity to experiment, teach, learn and enjoy solar cooking. The hybrid technology combines solar thermal power and photo voltaic electricity in a very exciting way  
Team building –  Solar cooking has become a popular team building exercise in the same fashion as the traditional potjiekos competitions
All for only R3999.00 with loads of free extras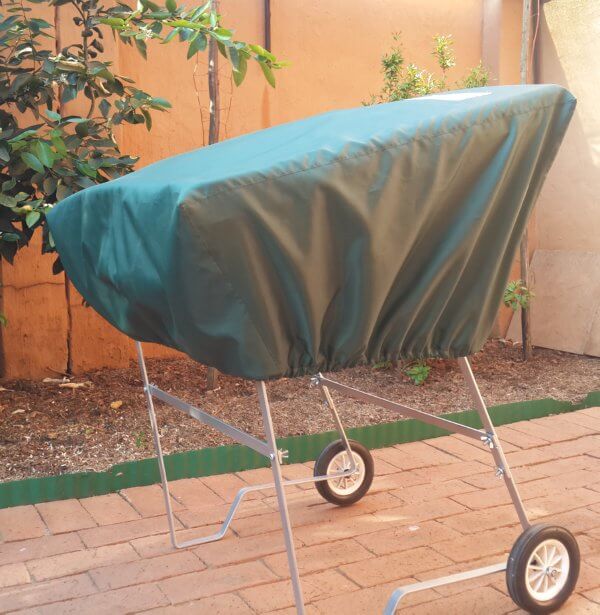 A free Patio Solar Oven cover.
Value R250.00 
A free 
solar 
10 piece non-stick carbon  cookware set.
Black, thin walled pots are ideal and the see through lids make solar cooking even more exciting
Or 
A free 4 piece chromed rusk drying set.
Whether you bake rusks for the family or the neighbourhood, you will experience significant savings and find these racks very handy 
Plus: 

Free electrical backup, cook or bake from the sun only, electricity only or both
If you need to speed up the cooking process or browning your bread even more – just plug it into the electricity grid or solar PV battery pack. 
If the clouds arrive unexpectedly, just plug it in
 Battery and inverter not included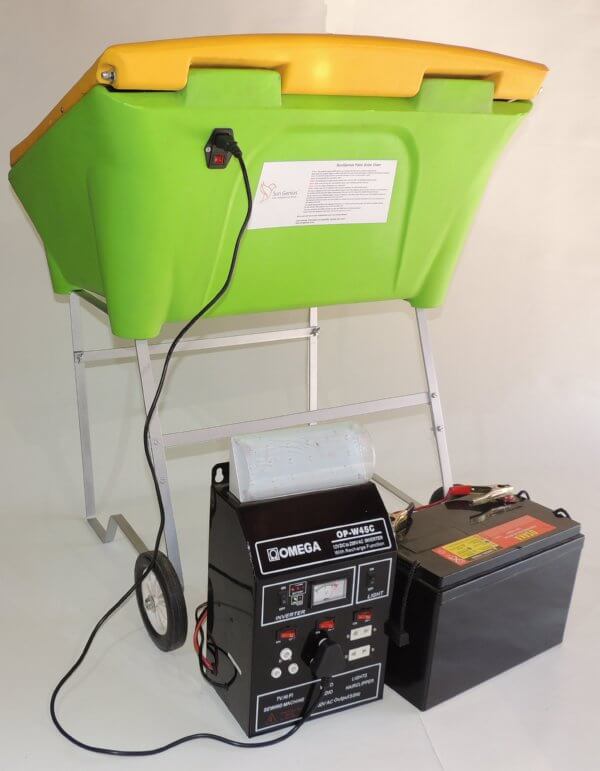 Your next step to energy independence 
But if you have any doubts…
Solar cooking is a widely used practice around the world since 1767. There are four different types of solar cookers. Box, panel, tube and parabolic cookers. Most products cook well under perfect weather conditions (in mid summer, clear skies and no wind), but does not function well otherwise. These failures are fatal and did massive damage to the solar cooking industry.
How to find out if this new lifestyle is for you?  
We accept that solar cooking is an unfamiliar concept for most people . We therefore created a survey with relevant questions that will indicate whether you should try solar cooking and what your chances are to succeed with this new lifestyle.
You will be provided with personalized feedback and guidance afterwards
Need more information?
Want to become a dealer or distributor?
Manufactured in South Africa