Leaving a solar cooking nation behind
Why is solar hot water geysers more popular than solar cooking?
Why is solar cooking more popular in Europe than in South Africa?
Through many years of dedicated solar cooking, we identified some of the reasons
why this technology is still not competing with other household appliances. 
Our solar cooking journey strech back 35 years with the well known original Sunstove. While comparing this appliance to other highly effective, convenient and commonly available household appliances – It was obvious that something had to change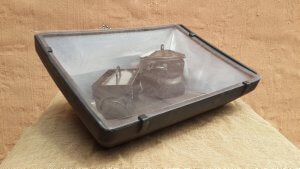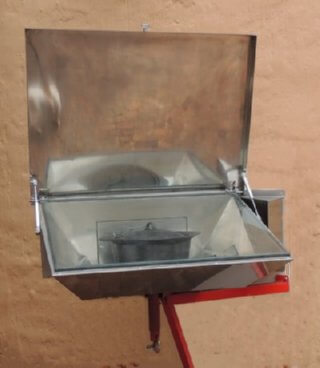 To minimize the inconvenience and frustrations of existing solar cookers, we went on a journey of trial and error. The experimentation with a built-in solar oven to be able to solar cook from inside the house was a step in the right direction, but a bit far fetched. The idea was to have it built into low cost houses in communities.
This is the Sungenius Evacuated Tube cooker. Just one of the well talked about cookers internationally. We built our own and still sell it on a small scale.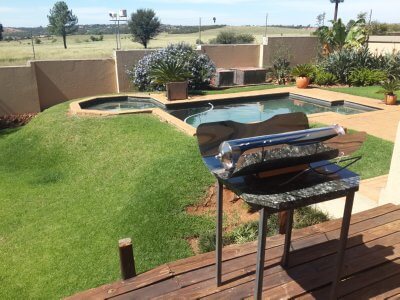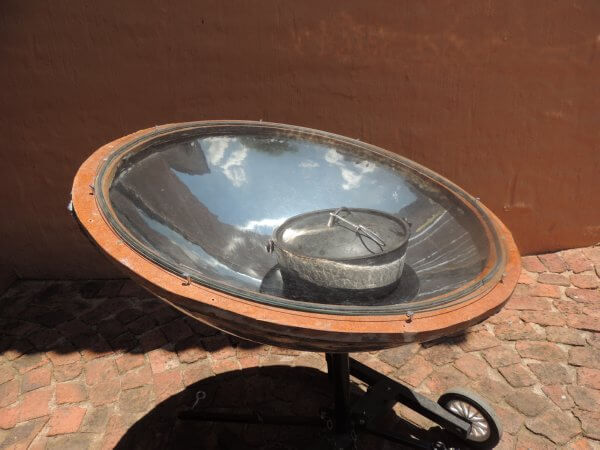 Building your own solar cooker has been proven to be just an interesting experience. Something that we found to be one of the biggest flaws in the industry. This was our effort to build a parabolic box oven.
Two aspects stood out as the biggest flaw in almost all existing solar cookers. Wheels and electrical backup. Think about it. "Who would ever buy a Weber Braai if it had no wheels or if it stops cooking when the sun sets?"
We put our ideas into action and the first generation Patio Solar Ovens were born. The convenience and performance proved to be a step in the right direction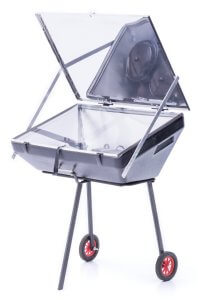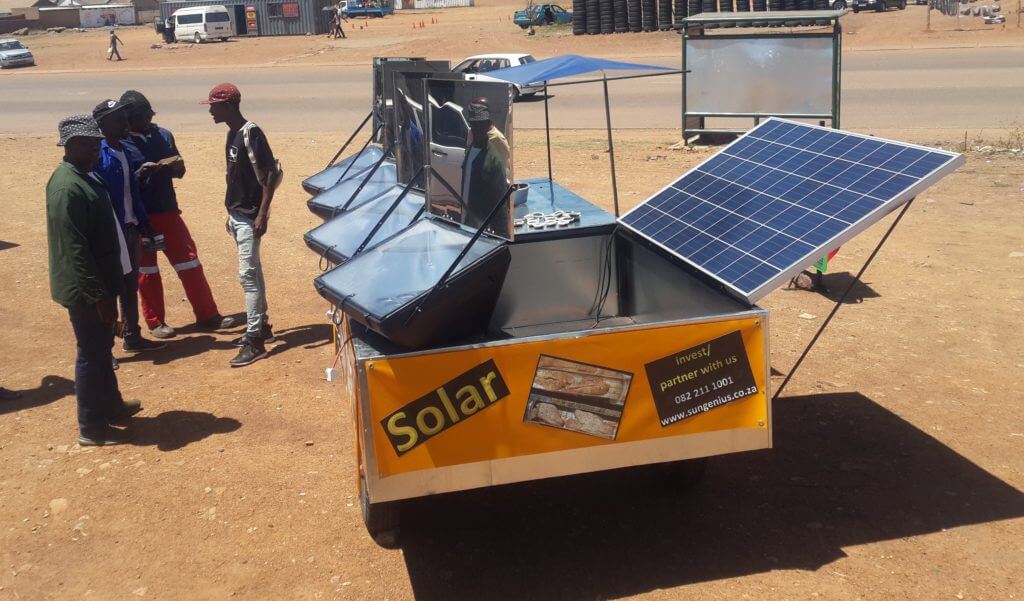 We realized further that solar cooking should become a commonly used household appliance and be more in the eye of the public. It should be used to generate an income with all-round visibility.
What if solar ovens can become the basis of mobile solar bakeries?
There are four different types of solar cookers. Parabolic cookers, Panel cookers, Evacuated tube cookers ans Solar box cookers. They all work and deserve their place in the sun…
…but from these, a solar box cooker is the safest, most reliable, most practical as it offers the best possible chance of establishing solar cooking as a new lifestyle anywhere in the world.
This is why the ultra modern SunGenius Patio Solar Oven was developed
Solar cooking can now compete with other household appliances for quality, convenience and style


The basic requirements needed if solar cooking wants to really attract the attention of the wider public